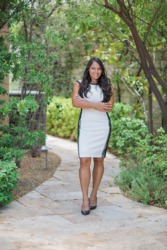 I have been a resident of Las Vegas for over 20 years. Born in Chicago, Illinois and raised in a small town in Wisconsin, I always knew I would end up in Las Vegas – I love the desert lifestyle and the dynamic energy this fabulous city has to offer. I began my real estate career in 2008 and prior to that I had 5 years in sales and customer service experience. Within just two years of my commitment to my clients and my passion for real estate, I was able to become a top producing agent with Prudential Realtors. Then in May of 2014, I decided that change was in order and I transferred my real estate license to Vegas One Realty. I have been a recipient of the "Top 25 Women in Real Estate" the past 4 consecutive years and a top 250 agent in Las Vegas for the past 8 years. I was also awarded The GLVAR top 40 under 40 the past 4 years I specialize in high rises, luxury homes, single family homes, investors, foreclosures, short sales, and just about anything else to do with real estate. When I am not busy selling real estate, my son keeps me on my toes with all his after school activities, particularly soccer. In my free time I enjoy health and fitness and I have recently taken up golf, it is a challenging sport, but I have fun so that is really all that is important. Traveling is another hobby of mine I have enjoyed since I was 5 years old. My family vacation every year was a trip to Las Vegas and I do blame my mom for why I moved here in the first place. Wine tastings and culinary events is something I love to do when I can squeeze it in. 
Testimonials
Maryann helped my wife and I moved across the country! Literally, she was our only point of contact for moving to Southern Nevada, and she did an amazing job taking care of us. Our whole process took about a year from start to finish, and I'm so happy we decided to work with her. We flew out and looked at 17 houses in three days, she was prepped, ready for us and (most of all) listened! It scary how much I trust her, but she's earned it. The best part of working with her, is that she's still been a help for us with trade folks that need to come over, what neighborhoods to avoid and (for my wife) where to get her hair done. This is the beauty of working with Maryann, she's ferocious, but she's in it for the long haul too. I will not work with anyone else when buying or selling a house here ever. Trust me, you want to work with her, your boca will be smiling all day!
Chris Astrella
One of the most stressful things to do in my opinion is shopping for a home. Now keep in mind, I'm a retired military veteran who served in some of the most elite units our military has to offer. That being said, I know how to manage stress. However, buying a new home in a city you were not born and raised or very familiar with became a daunting task. One that after nearly two years I almost gave up on. I spoke with several other realtors and though they were nice people, no one took the time to understand me and what I was looking for like Maryann did. Maryann was a breath of fresh air and her experience and ability to understand me as the buyer, my path forward, and the plan for success, set the standard for others to follow. Using words like consummate professional, honor, integrity, personal courage and someone who had "my best interests" at hand only begin to define how terrific Maryann was. When it came to the negotiations I felt her positive energy and this "silent tiger" come to life. She stands her ground with the steely-eyed look of Chuck Norris, and the smile of Princess Di. During the entire process she answered question after question and took my calls day or night. Nothing was too big or too small. Maryann Dingman I now consider a life long associate, and her ability to listen to her clients in a manner such as a seasoned coach listens to their players is her badge of honor. Thank you to Maryann will never be enough! If you're looking for a "Pro's pro," then look no further than Maryann
JB Spisso
Maryann was incredibly patient with us when it came to looking at houses. We started working with her around May or June and she didn't pressure us then and even 5 months later no pressure at all. As first time home buyers she was incredibly helpful with explaining the entire process we were about to make. I appreciated her kindness and the ability to work with our difficult schedules.
Alisa
Maryann made our first home buying process so much easier and less stressful than I could have imagined! She listened to what we were looking for, our needs and financial constraints, and helped us find our first home! She was there for us every step of the way. Would highly recommend Maryann to anyone looking to buy a home in the Las Vegas/Henderson area.
Tyler
As a first time home-buyer, Maryann helped to make the process easy and she was always available to answer any of my questions or concerns. She was a wonderful member of my home buying team who understood what I wanted in a home and helped me in advocating for it. Wonderful experience and highly recommended!
Cindy Guermass
More Testimonials